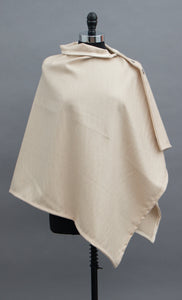 The wrap, in a one size fits most style, is available in many fabrics and colors. It combines the essence of functionality with luxury and comfort.
Unbuttoned, it's a lap robe for air travel or a blanket, any time. Over your shoulder, it's a bedjacket. Buttoned in front gives a different look. And buttoned to one side over the shoulder, it's a stand alone poncho or extra layer over a jacket, if the weather turns colder than expected.
One Size Fits Most

Made in the U.S.A.
*Click image for a closer view of the pattern.